About Us

At Greater Tomorrow Children's Fund, our Goal is to help less-priviledged children in Nigeria to achieve their maximum potential, by empowering them to create a Brighter Future.
Greater Tomorrow Childrens Fund (GTCF) is a 501(c)(3) organization, registered in the United States of America and Nigeria.
Greater Tomorrow Children's Fund was created to help and bring hope to less privileged children in America and Africa to achieve their future potential.
We believe that Children are the future leaders of the continent and can shape their own future for a positive outcome. We do this through mentoring, education, sports and community building and empowerment.
Children in American and African communities have been plagued with unrelenting poverty and disease for far too long and that the only way to change this pattern is to reach children. We strive to help this generation of children in their own lives and in their communities.
Founded by Paul Okoku, a retired soccer mega star is a native of Ogume in Ndokwa West LGA of Delta State, Nigeria, and also the Onutu of Ogume Kingdom. Okoku is a member of the silver-winning Green Eagles of Nigeria at the 1984 African Nations Cup may have accomplished much in life after his retirement from active football. Chief Okoku presently lives in Atlanta, Georgia.
---
 What We Do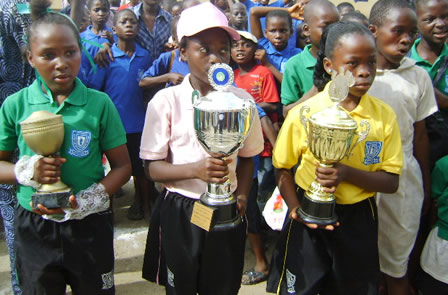 Our mission is to empower less-privileged children in education, sports and economic development.
Greater Tomorrow Children's Fund (GTCF) is spearheading charity works for less-privilege children in Nigeria, through donations and support from individuals, celebrities, businesses and organizations. We plan to reshape the concept of charity work in Nigeria.
Our Goal is to bring hope to underprivileged children in  US and Africa to achieve their maximum potential.
We do this through creating sports activities and competition, mentoring, reading programs, donation of books, classroom equipments, laptop computers and energy generation equipment, to schools in Nigeria.
Paul Okoku has been living in the United States for three decades and is now giving back to less- privileged children in Nigeria with support from celebrities and organizations.
Contributions are tax-deductible under internal revenue code section 501(c) (3)