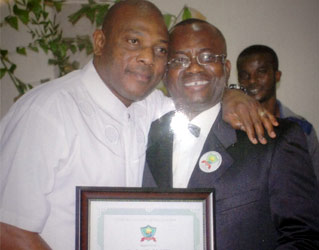 By John Egbokan
Super Eagles Coach Stephen Keshi has hailed ex-international and former teammate, Paul Okoku over the launch of the Greater Tomorrow Children Fund for less-privileged kids.
At the olourful and well-attended ceremony held inside the Nicon Luxury Hotel in Abuja, Keshi, who described Okoku as a trusted brother and best friend, said that the Greater Tomorrow Foundation was also his project, noting further that he has always been involved with the pet project spearheaded by Okoku.
"I am a part and parcel of the Greater Tomorrow Children Foundation. This is also my project. Okoku, I am sold on this. You can always count on my support and I must commend you for this great initiative to help the less-prvileged ones in our society", said Keshi.
Continuing, the former Togo and Mali coach said that Okoku should be encouraged by all Nigerians in delivering on the Foundation's objectives to change the lives of deprived in the Nigerian society.
"My appeal to Nigerians and corporate bodies is that we should support this noble project because over there in the America, the major thing driving the society is charity. Society cannot do well without giving to the charity orrganisations, which in turn ensure that the ones who do not have are well taken of.
"It is a thing of shame that over here in Nigeria, we seem to care only of ourselves. That is why we are having all these problems in the country because there are so many deprived people in our support. Nigeria will changes when we start helping the helpless.