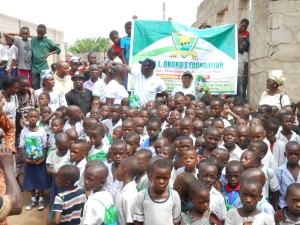 By John Egbokhan Ex-international, Paul Okoku, took his Greater Tomorrow Children's Foundation train to Delta State to celebrate this year's Children's Day and World Hunger's Day with pupils of Igbe Primary School in Ogume, Ndokwa Local Government.
With a mission statement to help less-privileged children in Nigeria achieve their maximum potentials by empowering them to create a brighter future through hunger relief, medical programmes, education, sport activities and mentoring, the Greater Tomorrow Foundation has been reaching out since it started operations in Nigeria and upped the ante last weekend by taking its yearly programme to kids in a remote village in Delta State.
Okoku's foundation put smiles on the faces of about 270 kids who were given goody bags containing spaghetti, noodles, biscuits, fruit drinks, candy, note books. At the event were ambassadors of the foundation, comprising ex-internationals Yisa Sofoluwe, Edema Fuludu, Jide Alabi, David Fatunbi and Mrs Grace Jalekun. Speaking through his lawyer, Okoku said he was delighted to deliver on the mission statement of the foundation by giving back to less-privileged kids in the society, who he noted were the future of tomorrow. He noted that he was never in doubt of the potentials that less-privileged kids possess but added that for them to attain their full potentials they must be supported by well-meaning individuals in the society and corporate bodies, who he stated have crucial roles to play in capacity development of young ones. The end of Okoku's speech was greeted by wild applause from the kids, teachers and elders who turned out in their numbers for the ceremony. Responding, Head Teacher of Igbe Primary School, David Agadi thanked Okoku for remembering pupils of his school, noting that it was the first time that such a gesture was being extended to them as far as his memory can recall Like Okoku said, Agadi urged successful Nigerians to help the needy ones in the society, warning that failure to do such would only increase the number of delinquents in the land. "We thank Paul Okoku for this kind gesture and hope that others will emulate him so that the future of these little ones will be brighter", said Agadi. Afterwards, the gifts in the goody bags were given to the pupils, who beamed with wild smiles as they danced away to the blaring sound for the loudspeaker. The elders were not left out of the celebration as they were given a token and drinks by the foundation.
Read more at: http://www.vanguardngr.com/2016/05/greater-tomorrow-foundation-celebrates-childrens-day/