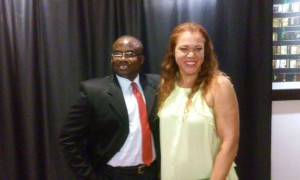 American-based Nollywood star, Bridget John has endorsed the Greater Tomorrow Children Foundation (GTCF), a charity-based organisation, whose primary aim is to help the less-privileged children in the Nigerian society and in the United States.
Founded by former Nigerian international Paul Okoku, the GTCF was officially launched in April 2014 in Abuja, with a firm resolve to help correct the imbalances in the society, through the provision of life-saving facilities and tools for those in dire need of them.
Touched by the gains that have been made by the foundation, Bridget, whose recent movie won the Best Diaspora Film at the Hollywood and African Film Critics, in Beverly Hills, California, USA, has pledged to be an Ambassador of the GTCF.
Speaking during an interview from her base in the US, Bridget, who produced and was the lead actress in Adora, said that it was an honour for her to help promote a project that seeks the well-being of underprivileged children and the deprived, adding that she would do everything within her means to draw attention to the plight of society's downtrodden.
"I find it quite interesting and a thing of honour to be an Ambassador of the Greater Tomorrow Children Foundation and I hereby pledge my support to help project the ideals of the foundation so that we can impact the lives of our children," Bridget said.
She praised Okoku for his humanitarian services. "Okoku, former Super (Green) Eagles AFCON medalist, is someone who I have known for a while now and what strikes me most about him is his large heart. He loves to help and that is why he founded this foundation, which I am proud to support and urge private and corporate bodies to partner with us so that we can reach out to those who really need help.
"There is so much we can do for the society by just giving a little of our support and partnership. It will go a long way to help rebuilding the lives of those who have nothing to live on."